Seattle Loses Out on Google Fiber. Again.
After winning the Super Bowl, a week of great snow in the mountains, and the sun starting to stick around past 6 PM, you think things would be great up here in Seattle. But Google had to go and announce plans for bring Google Fiber to nine cities including Portland, Nashville, Salt Lake City, and San Antonio. Serious. No Seattle. Again.
Bringing gigabit to Seattle has taken a huge blow the last couple months with the whole Gigabit Seattle fiasco falling apart and newly elected Mayor Ed Murray being supported by Comcast. It is not looking good for those wanting faster service and perhaps a little competition.
I live right on First Hill which is just minutes from Downtown, across the street from Seattle University, and Swedish Medical Center and Harborview. Being centrally located you think I would have fast internet, but sadly I view it as below average, especially for what I pay.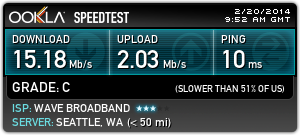 After fees and taxes I pay around $120 a month for Cable TV and Internet from Wave Broadband. Considering when I lived in Bothell and has FIOS and getting 40 Mb/s up and down for $45 a month just for internet. It is truely disappointing to live in the city and not have access to truely fast internet.
For being one of the tech capitals of the United States, if not the world, Seattle has some serious issues with providing its residences access to the future.
If you are like me, and want higher speeds at a reasonable price, contact the following people and make your voice heard.
Seattle Mayor
Ed Murray - http://www.seattle.gov/mayor/contact-the-mayor
Seattle City Councel Members
Bruce A. Harrell (Technology Committee Chair) - bruce.harrell@seattle.gov
Sally Bagshaw - sally.bagshaw@seattle.gov
Tim Burgess - tim.burgess@seattle.gov
Sally J. Clark - sally.clark@seattle.gov
Jean Godden - jean.godden@seattle.gov
Nick Licata - nick.licata@seattle.gov
Mike O'Brien - mike.obrien@seattle.gov
Tom Rasmussen - tom.rasmussen@seattle.gov
Kshama Sawant - kshama.sawant@seattle.gov